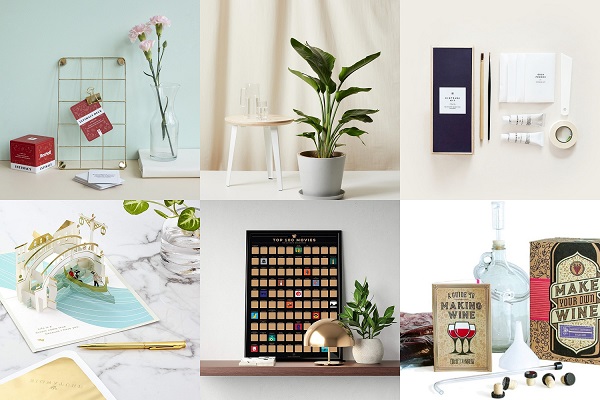 Planning for Valentine's Day can be stressful—especially during .'
Good news for you, we're here to make things easier. While celebration plans this year may look a lot different from old times, there remains plenty of ways to make the day of love feel special for you and your partner, without leaving the comfort of your home.
From an to , scroll down to discover a list of romantic gift ideas for a memorable Valentine's Day unlike any other.
1. : Reignite the intimate spark with 150 prompts to have deeper and more meaningful conversations with your partner
Image via
Image via
Put away the phones, switch off the TV and spice things up with the same curiosity and excitement from your first date!
will give you laughs and discoveries to help you feel more connected to your partner. With 150 prompts that encourage you to speak the truth and share your past, it's a guide to a happier relationship that helps you reignite the sparks.
2. : Mend precious belongings together with the ancient Japanese art of repair
Image via
Image via
Fragile things are all prone to breakage, but one could feel especially emotional whenever cracks appear on cherished items that bear sentimental value.
Instead of binning your shattered treasures, spend quality couple time and bring together those bits that have fallen apart. features a complete set of tools that lets you breathe life back into your broken piece like a master artisan from Japan.
Not only will you save money with buying replacements, you and your partner will now be proud owners of a symbolic masterpiece—delicately reconstructed with an ancient craft that proudly withstands the test of time.
3. : Celebrate love and life with this lush pot of green that grows more beautifully over time
Image via
Image via
While giving flowers is a lovely gesture, we have a better idea. This year, how about gifting your partner an enduring Valentine's Day plant instead?
is the perfect plant that stands tall and adds a rich, tropical feel to your living space. Commonly considered the queen of the indoor plant world, this alluring offering adapts to a wide spectrum of lighting, from direct sun to low.
Keep the soil moist consistently, and watch its glossy banana-shaped leaves flourish.
4. : A collection of simple and comforting recipes that bring the flavor of romance to the dining table
Image via
Image via
What easier way is there to someone's heart than through their bellies? Lucky for you, has recipes designed for not just one, but both for you.
Written by a married couple the book serves up simple yet comforting recipes including Grilled Curry Chicken Salad, Red Potato Salad with Smoked Bacon and Chives to Caramel Cheesecake Jars and Spicy Shrimp Tacos with Mexican-Style Slaw. There's even a section on cocktails, with ideas for setting up a home bar.
Each recipe is accompanied with photos that help even the amateur cooks whip up yummy dishes with ease. With tips and tricks for cooking alone or together, this cookbook will guide every couple on how to eat and live well.
5. : Serenade your lover with a special note that makes hearts travel to Venice and back
Image via
Image via
Want to send a little extra love to your Quarantine Cutie this Valentine's Day? Hallmark Signature offers a unique greeting card that is sure to put a smile on their faces.
This features sweet phrases like "I love you" and "Life is a dream come true because I have you." It also has a surprise pop-up of a couple riding a romantic gondola ride in the middle of it.
Since we all can't travel to the city of love this year, this elegant greeting card is a memorable alternative to express your affection to someone special.
6. : Dive into some movie magic with this poster that invites you to watch 100 iconic films
Image via
Image via
From Back to the Future to Inception, you can't go wrong with the top 100 movies. Grab the popcorn and take a deeper dive into some on-screen magic with this that one random flick for this very special date night.
Can't agree on what to watch? Simply scratch off each title to reveal a movie-related artwork underneath it. Not only is this game fun and interactive, nobody loses when every film is a winner!
7. : Make movie nights even more enjoyable with endless servings of the perfect snack
Image via
Image via
Watch a Valentine's Day movie while snuggling under a blanket and munching on some snacks in the comfort of your own home. Whip up some popcorn with the .
Made of glass, the popcorn maker comes with a dual function lid that allows you to measure out your popcorn and pour it into the popper.
Simply place a chunk of butter on top of the lid so that it melts as your kernels pop. Once ready, pop it into the microwave for three minutes and you are left with a nice bowl of ready-to-eat buttery, air-popped popcorn.
8. : Make your own wine because, like relationships, it tastes better with age
Image via
Image via
If you and your partner are looking to be more hands-on this Valentine's Day, then purchase this kit that allows you to .
You don't have to be a master vintner or expert to create the perfect wine. The DIY homemade starter kit provides it all, with enough ingredients and supplies for 1 gallon (or 5 750mL bottles) of delightful flavor.
9. : Show your lover that some things are meant to come in pairs
Image via
Image via
Let your pillow, talk, with these from Human Touch.
These sweet pillowcases feature heart-warming images of perfect pairs bringing the joy of everyday love to life. Whether you are apart of living together, the pillowcases are a way to show that special someone how much you care about being together.
10. : Get intimate with these soaps infused with powerful pheromone formula designed for attraction
Image via
Image via
Whether you wake up on the right side of the bed or not, will put a pep in your step.
Infused with pheromone formulas targeted to attract the opposite sex, the 3-Pack soap features Durden, Bond and Maverick. These soaps don't just clean, they are packed with powerful pheromone blends for that extra machismo.
This is a sponsored post.
---
Подробнее
[rating]
[rating-type-1]
{rating}
[/rating-type-1] [rating-type-2]
[rating-plus] {rating} [/rating-plus]
[/rating-type-2] [rating-type-3]
[rating-plus][/rating-plus] {rating} [rating-minus][/rating-minus]
[/rating-type-3]
[/rating]